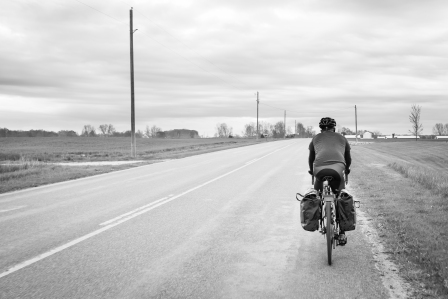 The 2016 Lucinda Means Bicycle Advocacy Day is Wednesday, May 25, which means bicyclists from across the state will descend on Lansing, to meet with and help educate legislators on policy issues related to cycling.
Advocacy Day is a way to promote a bike-friendly Michigan. The priority issues to be addressed this year are:
Enacting a 5-foot safe passing law.
Preventing unnecessary traffic stops of vehicles with bike racks.
Establishing vulnerable roadway user protections.
Classifying and regulating electric-assist bikes (e-bikes).
Numerous organizations have joined forces for Advocacy Day, including the League of Michigan Bicyclists, Michigan Trails and Greenways Alliance, Michigan Mountain Biking Association and Programs to Educate All Cyclists (PEAC).
Safe Passing Law
Michigan is one of only a handful of states currently without a law requiring motorists to pass bicyclists within a safe distance. House Bill 5003 was introduced in the state Legislature last year, and would require motorists to maintain a 5-foot distance when passing a bicyclist.
Why 5 feet? This distance is determined as the minimum that's sufficient to prevent a driver from striking a cyclist if he/she falls into the lane of traffic. The 5-foot standard is also supported by the Michigan Department of Transportation and the Michigan Department of State. In fact, the City of Grand Rapids is ahead of the state as a whole, having already adopted its own 5-foot passing ordinance.
House Bill 5003, sponsored by Rep. Mike Callton (District 87), has been sitting in the House Committee on Transportation & Infrastructure since last fall. On Advocacy Day, cyclists will be encouraging legislators to hold a hearing on the legislation, in hopes of moving it forward.
Bike Racks & Traffic Stops
In March 2016, the Michigan Supreme Court ruled that law enforcement legally stopped a motorist with a license plate that was partially obstructed by a hitch-mounted tow ball. In People v Dunbar, the Court held the driver violated MCL 257.225(c), which says that a vehicle's license plate must be clearly visible and "free from foreign materials that obscure or partially obscure the registration information …."
Bicycling organizations believe the Supreme Court's ruling sets a dangerous precedent, because law enforcement now have the authority to stop motorists for having rear-mounted bike racks on their vehicles. The decision could also impact the thousands of vacationers who travel across Michigan each year, transporting bikes, campers and boats.
On Advocacy Day, cyclists will seek co-sponsors for legislation that has been drafted to clarify the definition of obstructed license plate. The proposal would ensure that a bike rack or hitch-mounted device is not grounds for a traffic stop.
Vulnerable Roadway User (VRU) Protections
House Bills 5002 and 5004 would create enhanced penalties for drivers who injure or kill VRUs – that is, bicyclists, pedestrians or wheelchair users.
Under the proposals, drivers would face heftier fines and even jail time if they committed a criminal moving violation that resulted in the injury or death of a non-motorized roadway user.
The legislation, sponsored by Rep. George Darany (District 15) and Rep. Mike Callton (District 87), was introduced in October 2015. It has since been sitting in the House Committee on Transportation & Infrastructure.
On May 25, advocates hope to encourage legislators to hold a hearing on the bills, or else refer them to the House Criminal Justice Committee.
E-bikes
The number of e-bike users is growing throughout Michigan, which means there is a greater need to clarify the classifications and regulation surrounding e-bikes.
Currently, the Michigan Vehicle Code doesn't define e-bikes, leaving them to be misclassified as mopeds. This causes confusion among law enforcement over licensing and registration requirements. Confusion also exists among e-bike users, manufacturers, retailers, trail users and other land-use managers.
The cycling community supports standards that set forth a tiered classification system, allowing e-bikes to be used on roads similar to traditional bicycles. On Advocacy Day, bicyclists are seeking a  legislator to support a bill that defines e-bikes under the Michigan Vehicle Code.
Event Schedule
The Advocacy Day schedule is as follows:
8 a.m. – Bike rally leaves Municipal Park in Lansing
8:20 a.m. – Bike rally arrives at State Capitol with group photo to immediately follow
8:45 a.m. – Check-in, welcome, issue overview & questions
10 a.m. – Meetings with Representatives and Senators
12:30 p.m. – Lunch on Capitol grounds (includes a presentation of the "May is Bike Month" resolution and the League of Michigan Bicyclists annual meeting and awards)
Anyone with questions can contact the League of Michigan Bicyclists at 517-334-9100. Additional information can also be found by clicking here.